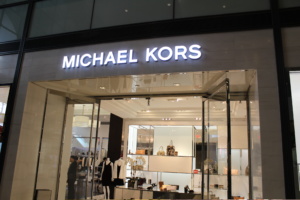 We've had to pull out all the stops to keep up with the demand for trimless channel letters. Companies are beginning to understand that the business signs they use to promote themselves can make or break them. A clean, sophisticated brand is essential for any business and this must be reflected in the marketing logo. We're getting many orders for business signs that reflect this new direction. Often, this means that companies are asking for trimless channel letters.
Mass-produced channel letters manufactured in large, basic fonts with trim caps look commoditized. Attached to panel signs mounted high above the entrance of a superstore, they don't usually attract close inspection. The problem with this kind of channel letter sign, however, is that it has become commonplace and generic. They're barely noticed now and do little to promote a brand. Recent advances in technology, however, allow cottage-industry designing of trimless channel letter signs. These more consumer-interactive designs target select markets, adding real custom value to a brand.
Be Bold Sign Studio has the facilities to produce custom channel lettering to sizes as small as 4" high and 1" deep. The acrylic letter faces are machine-cut, then riveted onto aluminum or steel profiles. The LEDs are installed inside each letter onto polycarbonate or acrylic backer panels. The choice of designs is almost unlimited, and we can choose colors and fonts to match your brand. Letter faces can be vinyl colored or digitally printed.
By using a business sign made from trimless channel letters, you will promote your brand in a way that sets you apart from your competitors. With the latest machinery able to produce channel letters faster than ever, your profit margins can only improve as a consequence. Removing trim caps from the design also lowers labor costs associated with shaping, notching, and gluing. Smaller, pristine signs attract more consumers, while conveying the clean sophistication of your brand. These trimless channel letter signs also illuminate with a crisp brilliance that will turn heads. As with all successful marketing tactics, increased sales will follow.
For more details on our trimless channel letter signs, and how they can help your business, email us at info@beboldsigns.com. If you prefer, you can call instead during business hours and ask for one of our top designers. Call us on 678-520-1029 (Andrea) or 703-231-1241 (Burton) and let us design you the most effective channel letter signs to market your brand.
Written by: Be Bold Sign Studio