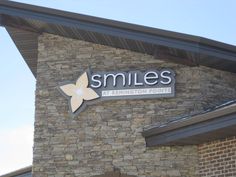 Nowadays dentists appreciate how important having the right lobby signs is for their practice. We receive plenty of orders from the dental profession, and it's not hard to see why. Even more than the decor, the signs in the lobby convey the brand and style of the practice. We're always pleased to help dental practitioners create the vision they want for their business.
Our lobby signs range in price according to the materials used. We can make dimensional lettering out of painted or pigmented acrylic, or you can choose from a range of metal laminates. Brushed aluminum is a popular choice, but we also cut letters from steel or copper and can give them either a satin or oxidized finish. Mounting the letters on a panel adds extra dimension. Alternatively, they can be attached to the wall, either flush or using spacers. Panel signs have the advantage that, using low voltage LEDs, the letters can be back-lit to great effect.
Lobby signs made from frosted or clear adhesive vinyl look fabulous mounted on windows or glass doors. They are an effective and inexpensive way to promote your brand to your patients.
We always work closely with the customer to ensure that they are satisfied with the final product. We always proof the final design before starting to manufacture: this eliminates design errors. All materials are machine cut and finished to produce precision-edged letters that will enthrall. If required, low voltage LEDS are fitted inside to provide a soft interior illumination.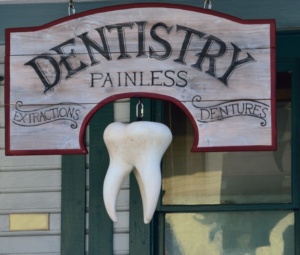 Take away your patients' worries by hiring us to brighten your lobby with some great looking signs. Put your stamp on the room where first impressions are created for everyone who visits. Your lobby walls are a blank canvas where, with our help, you can add color illustrations and text to welcome and comfort your patients. Promote high standards of care and professionalism through your distinctive brand. Building patient confidence through our professionally designed signs helps increase business profits too.
Call Be Bold Sign Studio today and let's discuss how we can transform your lobby into a special space. Speak to us on 678-520-1029 (Andrea) or 703-231-1241 (Burton) or email us at info@beboldsigns.com. We are happy to advise you on how Be Bold Sign Studio can help your practice. And if you're local, we're always happy to visit your offices and discuss in greater detail the best signs for your lobby.
Written by: Be Bold Sign Studio